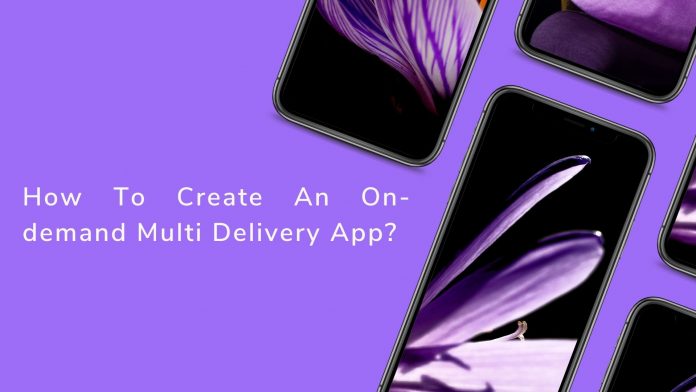 The on-demand economy has become premier eye candy for all the businesses out there. Given the situation that users are looking for speed, convenience, and simplicity, the on-demand industry tops the chart. Moreover, ever since the Coronavirus pandemic outbreak, most people prefer to get their products/services delivered to their doorstep. Many small businesses investing in the on-demand business see it batting a thousand, for they are yielding a great pay-off in spite of lesser investment.
If you are one of the startups who want to join this band, then you can get some essential tips and tricks from this blog. So get ready to insight yourself.
What makes on-demand apps popular?
When speaking about on-demand apps, the first things that come to mind are their fame and profits. What makes them outshine the conventional methods or services? For a venture to flourish, there must be things that meet the users' demands. And obviously, on-demand apps take care of that wisely. How?
For a business to grow heights, building a firm business relationship is crucial and the initial step before reaching out to your clients. And the on-demand delivery apps make up the best business in being so. Not just a client interface, but it creates a better relationship between retailers too.
Next, the apps are not puzzling. The on-demand apps' intuitive interface speaks for itself. Whether the audience is tech-savvy or not, anyone can book a taxi or a service. That's how elementary their operations are. The more user-friendly a business solution is, the more it will be loved by its consumers.
And lastly, they solve customers' problems. If someone were to say that we would get food or a taxi at our doorstep a decade ago, we would have been at wit's end. Apart from its convenience, be it the price or quality, they both match the people's expectations.
Domains that on-demand delivery app market beholds
Courier service
Apps like Uber for courier helps in peer to peer delivery services that can help people to courier things from one place to another. As it saves a lot of time and effort, convenience again wins the race here.
Transport and logistic service
The transport industry will always be growing till hell freezes over. There is an immense opportunity and also a battle to become the next Uber alternative. Especially after the success of Uber, Lyft, Bla Bla Car, etc. With the population exploding like crazy, there is a great chance for more expansion. Hence you can go for the Uber clone app development.

Food delivery service
A staunchly evolving sector that has changed the way we all consume food. It is a service encouraged by millions. There is no wrong in pointing that it is not going to change ever. So if you want to enter into the food delivery industry, you can make use of the UberEats clone solution and thrive immensely.
Grocery delivery service
Next to food delivery, grocery delivery service is relied on by users from worldwide. Many entrepreneurs are flocking to this sector. It is all set to hit the billion-dollar mark. So obviously, this is a better opportunity too.
Home service
In their busy daily lives, people don't find enough time to take care of household products or other cleaning services. But these apps are changing this stereotype by offering professional service at an economical price.

Types of on-demand businesses
Business-to-consumer: The on-demand apps which offer products and services directly from a business to the consumer. On-demand home services, delivery services come under this category.
Business-to-business: These apps offer deliveries between deliveries. Uber for truck services is an example, as they allow enterprises to find reliable carriers.
Consumer-to-consumer: A person-to-person business similar to the operations of Etsy and eBay.
Just three classifications, yet there are more categories to this industry that have been a savior for millions of people. Apart from all the other segments, the on-demand delivery apps are observing constant growth and increasing income as their aspects. So if the delivery app business is the choice you have taken, then you should also note that there are more domains to it as mentioned in the above segment.

On-demand App Statistics
The on-demand workforce market is expected to grow at 18.5% CAGR till 2024
The on-demand food delivery market will hit $165 million by 2023
In the US alone, 42% of the US population uses on-demand services
The global on-demand home service market is expected to grow by $4730.31 billion at 70% CAGR
Since the on-demand app industry is not an untapped market and is flourishing high with tight competition and better technological advancements, if you are planning to enter here, then you must launch a delivery app that gives a competitive edge. So, how to validate your idea for an, how to choose that one element that will set apart your app from others? Given below are simple rules that can give you a rough vision of growth potential.

Steps to make a befitting on-demand delivery app
Research about the needs of the target audience
For a business plan to work out, it is mandatory to analyze if it will satisfy the actual pain points of the users. Study what your target audience would need and make it a core offering of your business. To analyze this, you can use online surveys, or by participating through social networking platforms, you can share your ideas as a query and use the forums. It will help you in inculcating your app idea in the minds of your users and meet real-time hustle.
Users will prefer your app over others only when your app has something unique to offer than others. To do that, you must closely analyze your competitors. And app stores are a neutral platform to let you get insights about it. It will give you new ideas, strengths and weaknesses, customer feedback, ratings, and how they are consistent in using technologies.
It is better to develop and deploy apps on both Android and iOS platforms. Though this might not suit your budget well, you can only develop an app for either of the platforms. But don't let the other slip away. You can take time, obviously, but make sure to develop another one. Because you never know which idea will be appreciated the most.

Identify the features to integrate into your app
As mentioned earlier, your app should have a specific purpose to resolve the problems of the targeted niche. So what are the doubts you should ask yourself? Here are some ideas.
Will these features make the app's functionality and users' life easy?
Does the feature satisfy the main goal?
Would integrating this feature result in any technical glitches?
Does this feature match my budget plan? 
Post ideas on communities
Making a page of your mobile app idea and getting feedback from various communities like Reddit, Discord, Telegram, and engaging in some Q&A sessions will be aiding in assessing the popularity of your startup idea. Start off with drafting a product description, an icon, attractive visual content, and you can start answering all the queries and discussions.
Observe everything from the customer's perspective and imagine if integrating a feature can in many ways make it easier for them and if it meets his requirements. The simpler and straightforward the work is, the more your user would love it. Because let's be frank, too much of anything is good for nothing.

Extravagance at the initial period is not such a better idea. You can develop and launch an MVP with a limited set of functions. It will help you in tracking audience responses and collecting their reviews on the core functioning of the app without any embellishments. You will have a deep insight into whether your app idea is stronger, which is the most important question for your business.
Not just a niche, but if you are ready to set a ground for yourself in the on-demand industry, you can consider taking up the multi-delivery app solution from an app development company like Appdupe.
Wrapping up
Well, with this, I hope you are equipped with the right knowledge. Every second is precious when you have a goal ahead of you. So don't burn daylight and take your stride forward soon!