It might be difficult to make the correct countertop material selection for your kitchen. With so many options available, from natural stone to engineered materials, it's easy to get overwhelmed. However, when it comes to creating a bespoke kitchen, choosing the right countertop material is crucial. Not only does it need to be functional, but it should also fit in seamlessly with your bespoke kitchen design. In this blog post, we'll take a look at some tips for choosing quality materials for your kitchen countertops while still maintaining functionality and style.
How to Choose the Right Countertop Material for Your Kitchen?
Choose according to your lifestyle 
Selecting the right materials for your kitchen countertop can make all the difference in functionality and design. The first thing to consider is your lifestyle. If you're an avid chef or hosting frequent gatherings, a durable surface that can withstand heavy usage would be ideal. Granite, quartz, and porcelain are popular choices for their durability and heat resistance.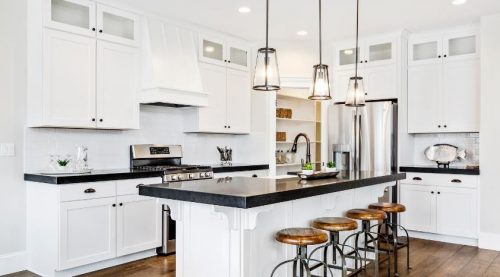 If you're looking for a more budget-friendly option or prefer a softer, natural feel, consider wood or laminate. Another factor to consider is the design style of your kitchen. For a clean and modern look, consider a sleek and glossy surface, such as quartz or glass. For a more rustic or traditional look, natural stone or wood would be a great choice. By taking into account your specific needs and style preferences, choosing the perfect countertop material can be an exciting and rewarding process.
Budget restrictions
When it comes to redoing your kitchen, a major consideration is the countertop material and its cost. Luckily, there are several options available that won't break the bank. Laminate countertops are a popular choice for their affordability and wide range of designs and colours.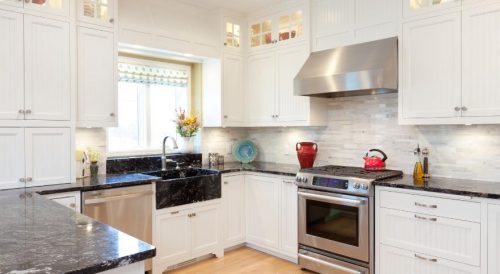 Another budget-friendly option is ceramic tiles, which can be arranged in countless patterns and colours. Additionally, butcher block countertops made from wood can give your space a warm and inviting look while also being gentle on your wallet. Don't let a tight budget stop you from achieving your dream kitchen – explore these affordable countertop materials and find the right fit for you.
However, while many cheaper options exist, they often lack the luxurious aesthetic that a lot of homeowners desire. For those looking for elegant options that are sure to impress, there are several expensive countertop materials to consider. From stylish marble to durable quartzite, these materials offer both beauty and durability, making them excellent investments for any home renovation project. With their stunning appearance and impressive quality, they are sure to turn heads and earn compliments from guests for years to come.
Eco-friendly, durable materials for countertops
When it comes to creating a quality bespoke kitchen, choosing the right materials for your countertops is key. There are many eco-friendly options available that are both durable and stylish.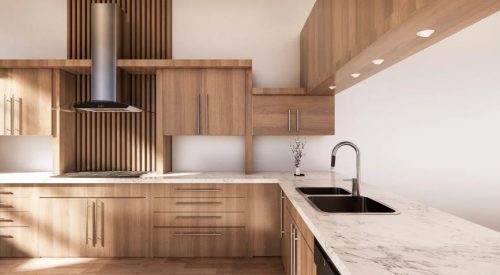 Some of the best options for long-lasting countertops include:
Recycled glass: Recycled glass countertops are made from crushed glass that is mixed with resins or cement. They come in a wide range of colours and styles and are extremely durable.
Bamboo: Bamboo countertops are a great option for those who want a sturdy material that is also affordable. Bamboo is a fast-growing grass that is easy to harvest and regenerates quickly.
Reclaimed Wood: Using reclaimed wood for your countertops not only adds character and warmth to your kitchen space but is also an eco-friendly option. Reclaimed wood is salvaged from old buildings or structures and is repurposed into new pieces.
Stainless Steel: Stainless steel countertops are a popular choice for commercial kitchens but are also a great option for bespoke kitchen designs. They are sturdy, easy to clean and maintain and 100% recyclable.
Conclusion
In conclusion, when it comes to choosing the right countertop material for your bespoke kitchen, it's important to consider functionality, style and durability. By choosing quality materials, you create a kitchen that is beautiful. The possibilities are endless, so start exploring today and create the kitchen of your dreams.