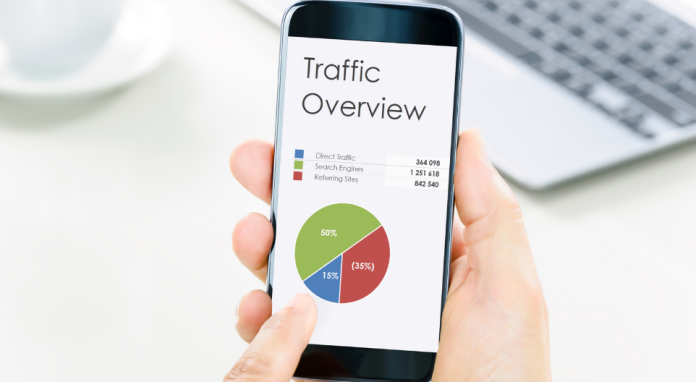 What are Ad Extensions in Google Ads?
Ad Extensions in your Google Ads are used to expand your Ads with useful and additional information. Ad extensions are many used for service-based business websites, which helps to engage with the customers at a single click. Though you already running an ad, or you are creating a new Ad, these Ad Extensions help you to improve your online business reputation. In this article, we will discuss, what are Ad Extensions in Google Ads and how to use them properly. To activate your Ad extension, get into your existing Google Ad campaign, go to the Extension tab, and click on the + icon, you can see the list of Ad Extensions.
List of Ad Extensions in Google Ads
Sitelink Extension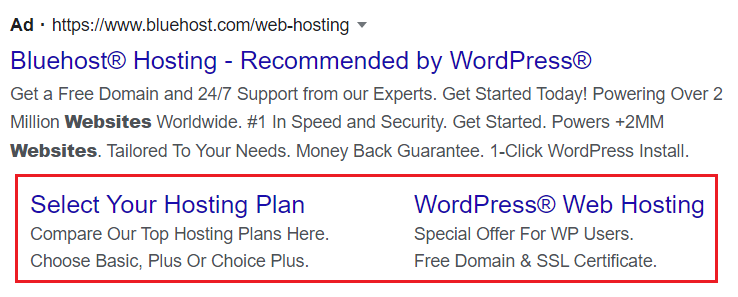 Sitelink extensions are the extension that can be used to link additional information about your web pages other than your targeted landing page. You can give appropriate heading, description, and link for the page which you like to add in your snippet. This will be displayed with your ad in the search results.
To add this extension, click on the + symbol and select Sitelink Extension. Your page will be displayed with the information to be added and the right side will be the preview of the extension. Here you can create up to 4 sitelink extensions.
Call-out Extension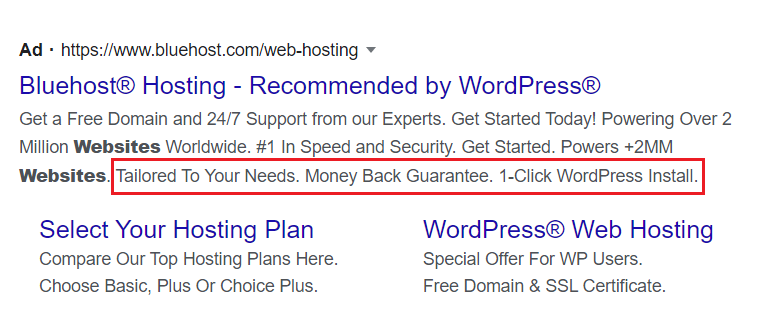 This extension acts as the small notes for your business website. You can use this extension to give some attractive words about your service and website. These extensions do not have a link and you can add this extension by clicking Call-out Extension. These call-out extensions also act as the tags for your business website for which services you mainly focus on. You can add your services here, or any unique features and special offers in your service. You can also do keyword research to add this extension if you mainly focus on ranking your blog site. These extensions are separated with '.'
Structured Snippet Extension
Structured snipped can also be used to list your services and offers in a separate row. Here you should give a heading followed by the services. You can select the header from the suggestion list and add your services in the below text row. Like other extensions, here also you will have the preview on the right side where you can view your work.
Call Extension
The Call Extension help you to add the phone number of your business. This can be used for your customer services, but make sure you are available to attend your calls all the time. This extension will directly make a call from the SERP, and this will not the number of your customers. If you failed to attend, then you cannot find the user again.
Message Extension – This extension comes under the call extension; you can add this feature if you need your customers to text you. You can optimize the messages according to your services. Make sure you can reply to your customer as soon as you get messages.
Location Extension
The location extension helps your customers to reach your place using Google Maps. You can use this extension if you have a physical location of your office. This consists of links that will direct your user to the Google Maps by location your office location.
Affiliate Location Extension
This is the same as the Location Extension, but this Affiliate Location Extension can be used if you have offices in different locations. This will list your Ad according to the user location, and they can see the locations of your office. This will help the user to visit your office near their location.
Price Extension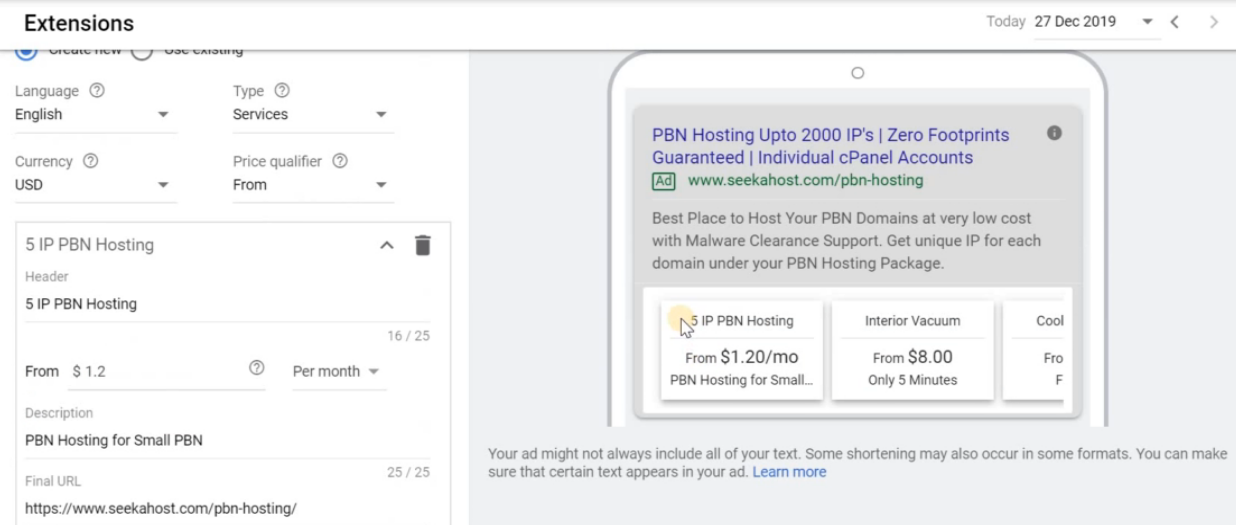 Price extension helps you to list the cost of your services in SERP while displaying the Ad. This will help the user to view your rice list and when they click on it, it will direct the user to the price listing page, or you can directly give a link to the checkout page. Here you need to select the type, currency, and price qualifier. With these filters, you can optimize your price list as the best one for your user.
App Extension

App Extension is for the websites and services that have an app. This helps to get more engaged with the user. Because the user will keep your app for a long-time rather visiting your website. It is also helpful for the user to utilize your service next time, and you can target the specified user with the app.
This can be created by clicking the App Extension tab, here you should list your business name, description, and click on the device you are focusing on. Add the text Download Now or Install to initiate the user to download your mobile app using the link you have provided.
Promotion Extension
Using the promotion extension in your Google Ad campaign help you to showcase your promotions for services and products. To set up a Promotion extension, select the promotion extension tab. This extension mainly focuses on the festive offers with a limited time. So, here you need to select the type of festival, currency, product type, discount percentage, name of your product, and landing page URL. As it is a festive offer, here you should select the start and end date of your Ad campaign. This helps to disable your Ad automatically after the end date.
Conclusion
Thus, the list of Ad Extensions in Google Ads was discussed. I hope you could have an idea about what are Ad Extensions in Google Ads and how to use them properly. With this option, you can promote your website as more user friendly and you can attract more audiences and visitors to your website. Make use of the Ad Extensions properly because improper use of the technical factors may reduce your business reputation and you may also lose your profit.