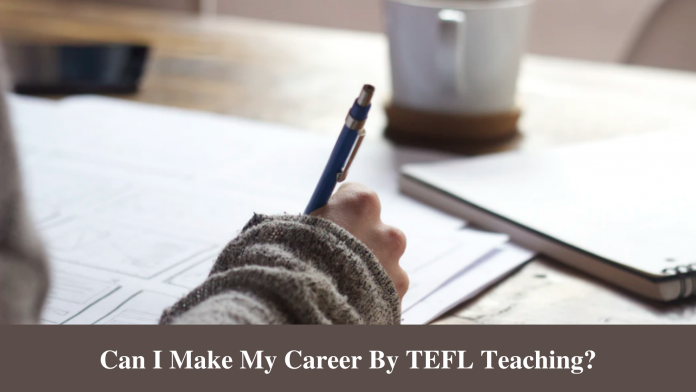 Are you starting out as a new teacher or have you been in the TEFL industry for a while?
Many TEFL professionals will eventually wonder what career options are available after they return home from teaching abroad. Others will decide to continue teaching abroad and are curious about what options exist for them.
While you may start out teaching abroad or locally to a particular set of learners, your career path may lead you to other professions. Wherever you decide to call home, making a career by TEFL is possible but it won't happen overnight and you will have to be professionally proactive and dedicated to your professional growth and development. Let's look at the road ahead!
Staying abroad
Many TEFL professionals remain abroad for many years and continue teaching in local schools, private institutions, or wherever the need for an English teacher exists. The demand for English will continue and as long as the demand is there, the need for qualified English teachers remains. If the option to stay abroad sounds appealing, then no need to worry.  As a seasoned professional, you should have no problem getting hired wherever you decide your next destination is.
Teaching opportunities also exist in universities. Primary Research regarding the qualifications needed to teach at the university level in the country you are in or plan to be and plan accordingly. If the job requires a Master's Degree, you may want to consider enrolling in an online MA TESOL or MA Linguistics program.
Taking it to the next level
Another option for those who decide to stay abroad or return to their home country is to further their education.
Many people who initially obtain their TEFL certificates and spend a few years teaching discover that they would like to continue developing skills and acquiring knowledge related to TEFL.  It is not uncommon for TEFL-certified teachers to later pursue the DELTA, Trinity Diploma in TESOL, MA TESOL, MA Linguistics, or other certificate and degree programs to collect the right data.  Taking your studies to the next level also takes your opportunities to the next level.  If you are interested in working in a university, becoming a Teacher Trainer,  or transitioning into administrative or management jobs, getting TEFL certified can be the first step to paving a new career path.
Senior-level teachers and Coordinators
If you are interested in becoming a Senior/Lead Teacher, Coordinator, Director of Studies/Academic Director, or pursuing administrative roles, having a TEFL certificate is a good start. Senior/Lead teachers and Coordinators typically have more than 2 years of teaching experience. They will be skilled at mentoring, leadership, and offering expert advice regarding curriculum and teaching.
Transitioning into management
Becoming an Assistant Director of Studies (ADoS) or Director of Studies (DoS) is another option at the management level. You may or may not have to teach at this level and will depend on the school you are hired at.  ADoS roles are more administrative and assist the DoS in the daily management of the Academic Department.  The DoS role includes hiring teachers, coordinating teaching schedules, ensuring students are progressing in their course, customer service, meeting with the school management team, and planning and developing the curriculum. Every school's DoS role will be different so review the job description to see if this is the right role for you.
Teacher Training

If you have a desire to help other teachers with their professional development, teacher training is a good option.  You'll need to get additional training to prepare you for this role.
The Delta Diploma is a University of Cambridge course aimed at experienced EFL teachers who would like to learn advanced skills that can be applied toward teacher training. The Delta can also be applied to other TEFL career positions like the Senior/Lead Teacher or Coordinator Role.
Public School Sector
If working in the public school system in your home country appeals to you, check the qualifications required of the school or school district.  Often a teaching certificate is required but  Teaching Fellows programs are aimed at bachelor degree-holding qualified applicants with an interest in the field of public education. These programs offer a non-traditional route to full-time teaching positions in public schools. Another option is applying to private schools, which set their own hiring standards. Your TEFL certificate and experience may be sufficient to get you hired.
Publishing
Are you interested in creating teaching materials?
Does creating curriculum, technical writing, editing, or creating online teaching content appeal to you? You may want to research careers in the publishing sector. You can work for a company or freelance. If you have any previous writing, journalism experience or majored in English, these skills coupled with your TEFL experience will help you succeed in this role.
Online Teaching
Working from the comfort of your own home sounds too good to be true right? Not anymore. Many online companies are hiring English teachers, especially those with a TEFL certificate and experience teaching abroad.  You can set your own hours with most companies which gives you the freedom to work other jobs too. Getting an online teaching job is as simple as getting online and researching, "Online teaching English jobs".
TEFL Recruiting
Are you interested in helping other teachers get hired or helping companies or schools hire good teachers?
Your time abroad probably gave you insight into what it takes to be a good teacher. You can use your experience to ask the appropriate questions and help schools and companies find the right person for the job. Research recruiting companies and see what it takes to get hired as a recruiter.
Start your own business
 You can start your own business teaching online or face to face. You'll have to market, advertise and recruit your students.  But, you will have the power to decide on the curriculum and sequence of learning. The time you spent abroad creating lessons, materials, and catering to a diverse set of learners will now pay off for you! Apply your experience and turn it into a business venture.
The TEFL certificate is more than a ticket abroad to teach. It has been the starting point of many successful careers.  How far you decide to go in this industry depends on your personal career goals. No matter what path you choose, continue to develop professionally and help those just starting out.