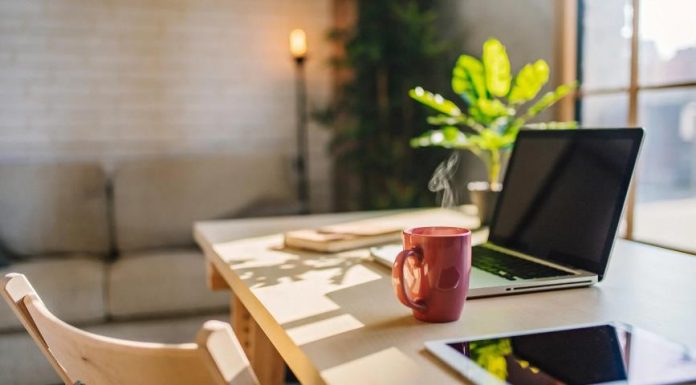 Working from a home office can be a great experience. First of all, it brings along comfort and familiarity. Secondly, it helps save travel time and expenses. But, if you work from a home office, it's crucial to maintain the office aesthetics to keep your guests entertained and prospects impressed.
This blog shares five home office renovation tips that won't cost you the bank but will certainly elevate your home office's appeal. So, buckle up and read on.
5 Home Office Renovation Tips
1. Choose your colours wisely
Every colour imparts an emotion and helps set the mood. Many of us might have noticed how daylight can make us feel energetic and encourage us to get work done. Similarly, a warm shade of yellow or white is perfectly suited to ease your evenings and relax around that time.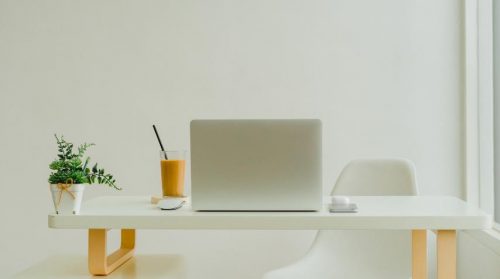 That's how our brain is programmed. Bright white light encourages us to do more work and warmer shades of white help us relax. Similarly, dark often indicates "time for bed."
To boost your productivity, make sure to choose office lights and wall colours that help uplift your mood and allow you to be productive.
The safest suggestion is off-white walls, with natural light for the daytime and warm yellow lights for the evening hours. You can consult Harveys Windows for expanding or installing windows in your home office. It's Leicester's top window company offering tailor-made solutions in and around the area.
2. Wood is impressive
Using wood in your home office can instantly increase its aesthetic appeal. While fibre and plastic tables may be easy to find and come in various colours, a polished wooden table will outperform its appearance.
As we are discussing the aesthetics of your home office, wooden furniture is the way to go.
To start with, you can consider getting a classy sofa for your waiting guests and a wooden work table for yourself.
3. Organisation matters
A small but organised office space usually comes off as more attractive than a large but unorganised space. To attract and impress your business prospects, it's important to keep everything organised.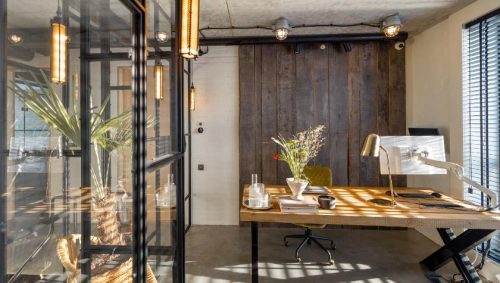 Cupboards, small almirahs, and other storage furniture may help you organise items in your home office.
Also, the best thing about having a home office is that if something doesn't suit the office setup, you can temporarily place it in your home and decide "what to do with it" later. This will at least help eliminate the clutter when your clients visit.
4. Setup a few plants
Plants look great in office setups. And as it's your home office, you can customise it as you want without spending a huge pocket.
You can start by placing two plants on both sides of the welcome door and, perhaps, two right behind your work chair. While this is a safe approach, if you have better ideas, you must decorate your home office with small plants and turn your workplace into a green delight.
5. Coffee to welcome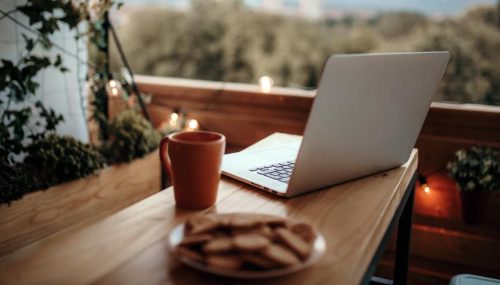 Since we are talking about impressing business prospects, we can't go wrong with coffee. While your home may already have a coffee maker, getting a small machine for your office may also be a good idea. Especially if you have a business that relies majorly on clients and work partners, it'd be nice to welcome them with a cup of coffee and some cookies to taste.
Explore your options, and you may as well get lucrative deals on coffee machines.
Wrapping up
Setting up a home office is an exciting experience and an opportunity to make your prospects and customers feel more comfortable while visiting you. To make sure your home office is correctly set up, you may need to note a few things. Through this blog, we tried to help our readers renovate their home offices so it's more presentable to the clientele.
Hopefully, this was helpful.