Plants' power is often underestimated, especially when it comes to working environments. However, once you learn about the countless possibilities of decorating with plants, you'll never want a dull office again.
Access to nature is more and more needed for employee emotional health and overall well-being. But bringing the outdoor environment indoors is not as common as it should be. Indeed, numerous companies worldwide have embraced organic textures, natural materials, daylight-like light, access to outdoor spaces, and views of nature.
Nevertheless, plants in workplaces aren't used to their full potential, partly because of a lack of décor knowledge, partly because this aspect is neglected.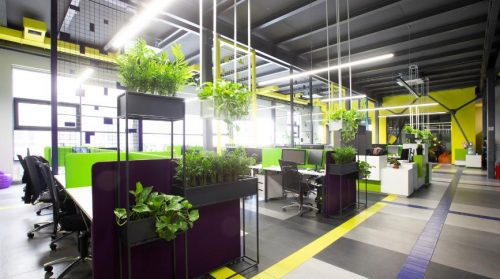 But what many don't know is that indoor plants can highly change the way in which employees work. Not only do they make offices more appealing, but they also go a long way in improving the quality of air, reducing thus the risk of respiratory conditions.
If there's something that the recent social challenges have taught us is that we should connect with nature as much as possible. From this – the idea of biophilic design. That's why experts recommend integrating plants in the living and working spaces alike. If you're looking for the latter, you're on the right page. Here's our cherry picked list of office plant decoration ideas.
How to Turn Your Workspace into a Green Delight?
Hanging Plants
Hanging plants such as the Devil's Ivy and Spider plants are perfect for any inspiring office room, regardless of their size. These plants save a lot of space, as they can be hung from both walls and the ceiling, also taking up minimal floor space. If you feel a little adventurous, you may want to go for plants that love to dangle loosely and trail downwards, such as Burro's Tail succulent plant and the English Ivy.
These kinds of plants will always remain a go-to plant decoration option, and that's not only due to versatility – the diverse range of hanging planters and pots designed for these plants is also a deciding factor. Among the variants you can choose from, some of the most popular ones include bohemian macrame hanging pots and handmade ceramic pots.
A Moss or Living Wall
Due to its strong association with nature, a moll wall is undeniably one of the best ways to go natural and bring greenery to your working environment. Moss has long been associated with freshness, health, and tranquillity due to its intense shade of green, so if you're looking for a way to bring energy and vitality to workers, that's an excellent decoration idea. Moss or living walls can be incorporated anywhere, be it the meeting room or entrance room, having the power to turn any dull space into a great relaxation spot.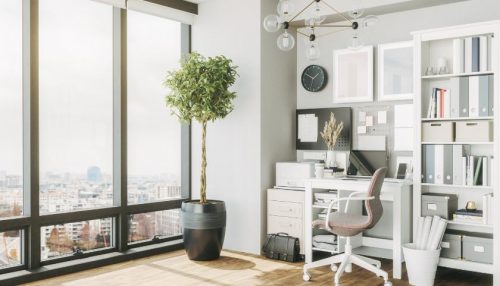 Along with a modern, contemporary design, a moss wall would be a focal point, as these two elements combined together make for an unconventional yet harmonious mix of styles. Be sure that every guest crossing your company's threshold will marvel at the intriguing beauty of moss.
Potted Plants
Potted plants are some of the favoured ways to elevate a working space (and basically any space), as they're versatile – small but with a presence. Chinese money plants and Snake plants are by far the most popular of their sort, but there's so much more to choose from: Canna lilies, Begonias, Chrysanthemums, and Hydrangea are just as spectacular as the ones mentioned above.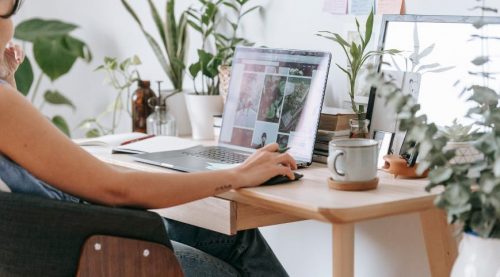 However, remember that different plants have diverse needs – while some might thrive in a shadier environment, others need to be kept in a lighter space. Also, some plants must be watered more often than others. Preferably, you should be looking for something that not only looks great in flower pots, but that is also easy to maintain.
Combine Modern Pots with Eye-catching Containers
This decoration idea is not so common, as we can't understand why. Combining modern pots with eye-catching containers, such as perfume bottles and glass jars, can give your workplace a vibrant feel and a touch of personality. That's a fantastic method to integrate your personality and let visitors see beyond plants.
Vintage vases are also a go-to if you want to express your love for retro or rustic design. Flower pots from Elho, for example, come in a wide range of sizes, materials, and colours, making it easier for you to choose a combination that suits your eye. Just be sure that, once you make a choice, keep the smaller ones at the front and the larger ones at the back to avoid chaotic layering.
Ficus Lyrata – A stylish touch of greenery
Ficus Lyrata (Fiddle Leaf Fig) has gained ground lately, with lots of interior design bloggers being bewitched by them. They've become statement plants you'll spot in many sophisticated homes, as well as in the background of a stylish photoshoot.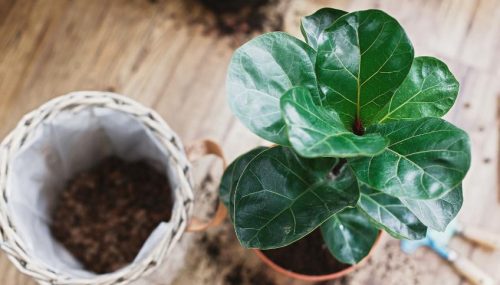 Its rounded leaves flopping in all directions have also made the Fiddle Leaf Figs a preferred plant in offices. Employers opt for Ficus Lyrata due to the plant's ability to adapt to almost any style (be it Minimalist or Eclectic) and add a fun texture to any workspace.
So, if you're looking for a statement plant to beautify your working space, we highly recommend considering a Ficus Leaf Fig. Place it in any corner of the office, and that's it!
Plant Maximalism
Minimalism has long been praised, but what if you opted for something more, to say so, lavish? You're free to create an urban jungle in your office or a plant paradise for your employees if that's your way of expression. Maximalism should be promoted as a more creative manner of doing things and less than total chaos. Of course, it could become chaotic if plants, pots, and planters are not chosen with some factors in mind, but that's valid for minimalism, too.
Aspects that should be taken into account when making such a bold move are colour, height, and pot material. Also, we don't advise you to take the plant maximalism route if you're not able to take care of your plants – so ensure that plants are within reach so that you can water them frequently.
As you can see, plants can do a lot for your office décor.