As many employers decide to mainly stick with the remote working model or hybrid model, the question arises of how they can make sure that their staff stays healthy and happy while working from home.
In the office, the employer can choose the interior design, the office furniture, and the technology for the workers. However, this is different for the home working model.
But there are ways any employer can support their employees with creating a distraction-free and healthy workspace in their own house.
This is in the interest of the business as well as the employee as the quality and effectiveness of their work depends on how well their home office is equipped with high-quality office furniture and home office décor.
Many community living spaces that also offer hot-desking and remote working arrangements realize this issue and therefore offer office desks equipped with ergonomic designer furniture.
To promote the health and wellbeing of your staff at home check out these healthy and green ways to create a home-based workspace that will allow them to work productively while contributing to sustainability as an individual and a business.
6 Creative Ways for a Healthy & Efficient Home Office
1. Ask staff to choose their ideal workspace location
The best location of a home office is often determined by a set of factors such as
The best area with natural light
Most calm and quiet area
The area that offers the right space for a home office
Provide guidance for your employees on how to assess these factors and how they can improve their home office by following them. As an employer you can provide incentives such as discounts for home office improvements so that they utilize their space as best as possible with equipment and storage options for example. And to create a space to unwind or take a break. Inspire them to make their home office the ideal space where they can focus and feel comfortable.
2. Share ergonomic office desk recommendations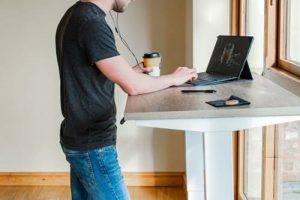 To reduce or hopefully eliminate employee sickness due to musculoskeletal injury such as back pain, which is among the main reasons for staff absenteeism in the United Kingdom, according to an ONS Study, investing in ergonomic office furniture is advisable to create a healthy work habitat. You can recommend adjustable desks such as "sit-stand" desks that will allow your staff to alternate between sitting and standing using highly-rated height-adjustable desks at home. This way upper back and neck pain can be reduced by 54% as one study has found. Ergonomic desks will also encourage workers to remain active and be more focused throughout the day. They can join meetings or conferences while standing or remain seated while doing writing or admin tasks. Provide them with guidance on the ideal posture which is a neutral position to keep their spine straight and recommend furniture providers that use sustainable materials like bamboo for example.
3. Suggest ergonomic chairs
Another important factor to consider to avoid common posture mistakes is being seated comfortably in an ergonomic chair, which will help workers remain in a neutral posture. Ergonomic seating is different from normal office chairs as it is specifically designed with built-in headrests and lumbar support for better spine alignment. Share such information with your employees and provide financial support to purchase such office items. Should a worker require more specific ergonomic support like office footrests, monitor arms and keyboard trays then they should get an allowance to buy such as these will help them to keep their spine straight for most of their workday. Ideally, you should recommend chairs made from recycled raw materials to reduce your carbon footprint.
4. Offer effective storage solutions
Helping staff to declutter their space to organise their work environment more effectively can lead to a lot more productive work hours. Finding office supplies or documents faster can be a huge time saver. You can suggest storage units or vertical storage for easy access that will also reduce them having to bend over too much. You can share apps that help with office design where they can virtually create an organised home office before, they change or purchase anything. Or you can work with office furniture suppliers to provide your staff with customized solutions. For more eco-friendly options why not share some upcycling ideas?
5. Inform about suitable lighting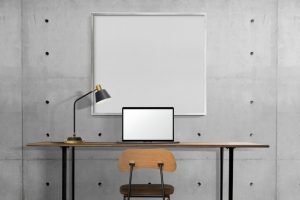 Even if your employees have a workspace with natural sunlight, which offers many health benefits like increasing Vitamin D levels that are responsible for the quality of sleep and by that increasing productivity, it is beneficial to offer guidance on home lighting. Full-spectrum bulbs that are energy savers and imitate daylight are great also to reduce electricity bills. Energy-efficient LED desk light lamps last much longer than normal light bulbs and are therefore also worth knowing about.
6. Provide access to productivity tools
If your company already uses online productivity tools then share them with your staff working from home to help them stay on top of everything. Such tools also offer additional features like cooperation and communication options for teams to stay connected, share updates, documents, and track progress. Human interaction is vital for the mental health of staff and this way you can ensure that they are not left alone. Online tools reduce the use of paper and waste and online whiteboards for note taking are also more eco-friendly compared to paper sticky notes. Click here to find out the list of productivity tools that you can use to boost employees productivity level.
Support your staff to keep them healthy and happy at home 
As an employer you can make use of many creative ideas as outlined above to allow your staff to work from a home office space that is healthy and efficient while contributing to sustainability. If you're not sure about how to support your employees, you can consult with office furniture suppliers like Emotion Office, who can advise you and your team on the right office equipment to match perfectly with any requirements. Help your staff to reduce their cost at home with greener home office options and everyone is happy.