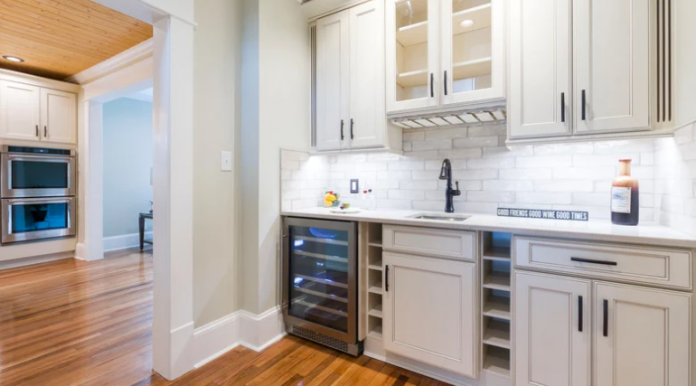 If you're looking to put together some new kitchen cabinets for your home, you may have come across two cabinet styles: shakers and flat panel cabinets. As two of the most popular cabinet styles out there, they each have their own unique qualities that can make them great choices for your new kitchen. But which one would work best for you?
Here are the pros and cons of both cabinet styles to help you make the right decision for your brand-new kitchen.
What are shaker cabinets?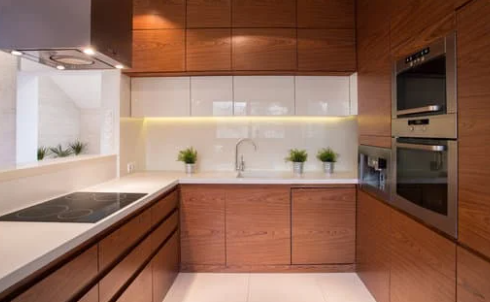 Shaker-style cabinets are one of the most popular cabinet door styles, featuring a clean and simple design. Named after a sub-group of Quakers called 'Shakers' who were renowned for their carpentry skills, they're easily recognisable by their flat centre surrounded by raised edges that frame the cabinet door.
Shakers are most commonly used for home improvements like kitchen cabinets, but many people have chosen to use them in other different types of spaces as well, such as for their bedroom wardrobes and bathroom cabinets.
What are flat panel cabinets?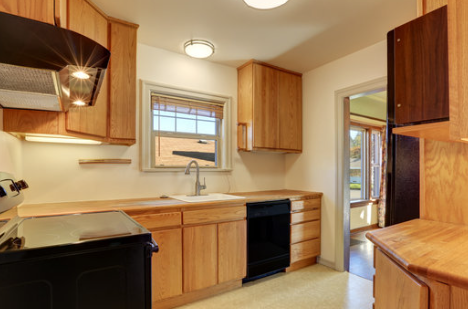 Flat panel cabinets, also known as slab cabinets, are another popular type of cabinet door. As the name suggests, they have a flat and smooth design made of a single panel of wood, which helps to convey a contemporary feel.
So, what are the key differences between flat and shaker-style cabinet doors?
Shaker vs Flat Panel Kitchen Cabinets
Design
The most obvious difference between the two door types is their design. Shaker cabinets are known for having a simple, almost modest, design with their centre panel and raised edges. Reminiscent of a picture frame, this design gives shaker cabinets a classic and timeless look that can work with practically all kitchen designs and aesthetics. They're also quite easy to customise with engravings or different finishes that help complement the rest of the space.
On the other hand, flat panel cabinets feature a smooth design and, unlike shakers, have no trim around the edges. The sleek surface means that these cabinet doors are at home in any minimalist or industrial-style kitchen. It's best to pair these doors with other more eye-catching design elements or colours in your kitchen because otherwise, they can look a little boring.
Similarly to shakers, flat panel cabinets are available in different types of finishes such as glossy, matte, and textured. Flat panels are a great choice if you're after that luxurious, no-frills look; however, they might struggle to fit with other types of kitchen designs.
Functionality
Shakers are quite durable, which makes them an excellent choice for busy kitchens. In the unfortunate case of dents or scratches, the raised frame design can hide these imperfections, helping even the most well-loved kitchen spaces look brand new.
With their raised edges, shaker-style doors need a little bit of extra attention when domestic cleaning because dust can collect along the edges. However, you can choose to have them finished with PU-based paint to help make this cleaning process easier so you'll have them gleaming again in a second.
Flat panels are pretty easy to clean due to their uniform, flat surface. One thing to keep in mind is that scratches or stains may stand out slightly more on these surfaces, so it's important to take good care of them.
Cost
Cost is another essential factor to consider when looking for new kitchen cabinets. Flat panel cabinets are super cheap because of the minimal work that goes into their design.
Shaker cabinets are also very affordable, although they tend to cost slightly more than flat panel doors as they require more labour and precision to produce that classic raised trim. However, this also depends on the type of material you choose to use. You'll be able to find shakers made from moisture-resistant MDF at Cworkshop, which is both cheaper and more suited for humid environments (e.g. kitchens and bathrooms) compared to solid wood.
Use of space
Choosing design elements that don't take up too much space is important if you're planning a kitchen renovation for a limited space. While both flat panel and shaker-style doors take up a similar amount of space, the raised and lowered sections of shaker-style doors add a sense of depth to your rooms that can help a smaller kitchen feel more spacious.
What's the best option for me?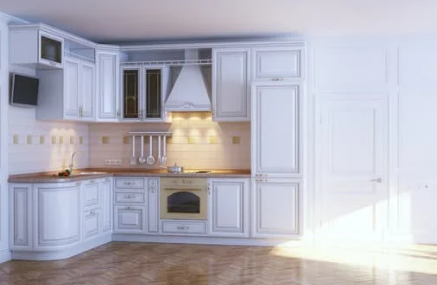 While shakers and flat panel cabinets have unique perks, the answer to this question depends on what you're looking for in your new kitchen.
Flat panel cabinets are versatile and cheap, with a smooth and easy-to-clean surface. While they can look good in a range of kitchen styles, they risk looking flat or plain, so pairing them with the right colours or other interior design elements to avoid your kitchen looking uninspiring.
Shaker-style cabinets are a great all-rounder option with their classic design that works with most kitchen styles. They've been around for hundreds of years and are sure to never go out of style; plus, their versatility means they'll be able to match your kitchen regardless of any other changes you make. In short, shaker cabinets are sure to take your kitchen design to the next level.