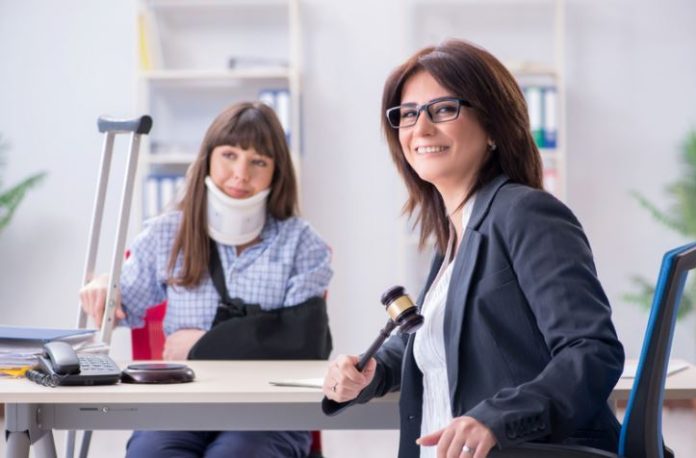 Lawyers specialize in working in one department. This could be tax law, criminal, or immigration law. A slip and fall lawyer has expertise in handling cases where someone is injured due to a third party's negligent behavior. They will help you seek compensation from the party you believe caused harm to the person.
Slip and fall cases might be a part of a road accident or injury at the workplace or residential areas. As the name suggests, a slip and fall in a public place could also be accounted for a slip and fall case.
Slip and fall is a type of personal injury claim. In such a case, if your claim is successful, you will be compensated and can even receive counseling. This article lists the top 10 slip and fall lawyers in London.
Top 10 Slip And Fall Lawyers In London
If you are looking for a slip and fall lawyer in London, the list below will help you out.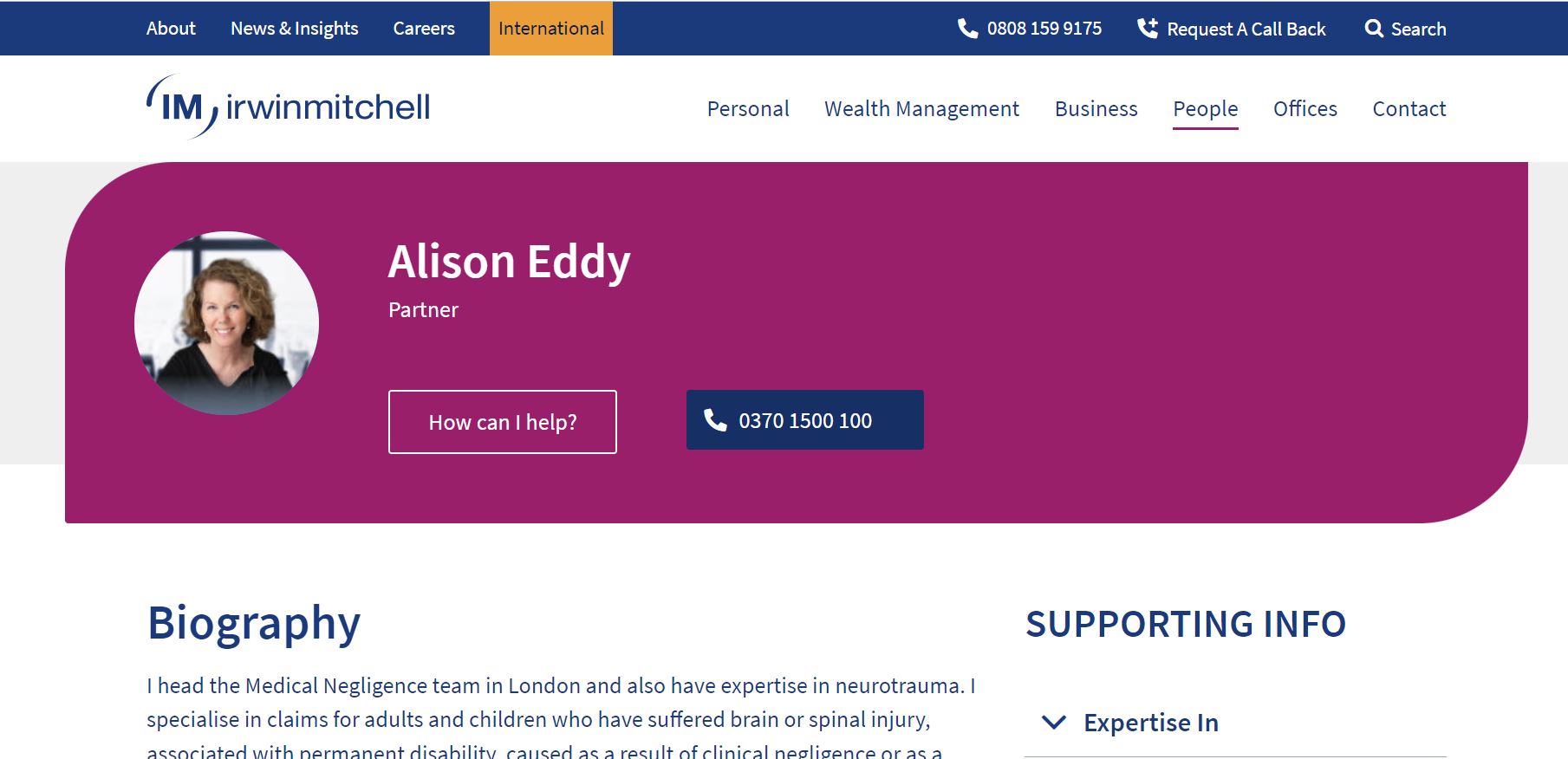 Alison Eddy is a lawyer in London, UK, who has expertise in claimant clinical negligence, medical negligence, and serious personal injury claims. She is a professional member of the Law Society Personal Injury and Clinical Negligence Panels, Association of Personal Injury Lawyers, and AvMA referral solicitors panel.
Alison Eddy has a particular interest and specialization in claims wherein adults and children have suffered neurological damage or long-lasting brain damage. Her clinical negligence team has substantial involvement in obstetric, neonatal, neurosurgical, cardiac, and psychiatric care claims. Eddy has retrieved damages for claimants with significant brain injuries due to road accidents in her career.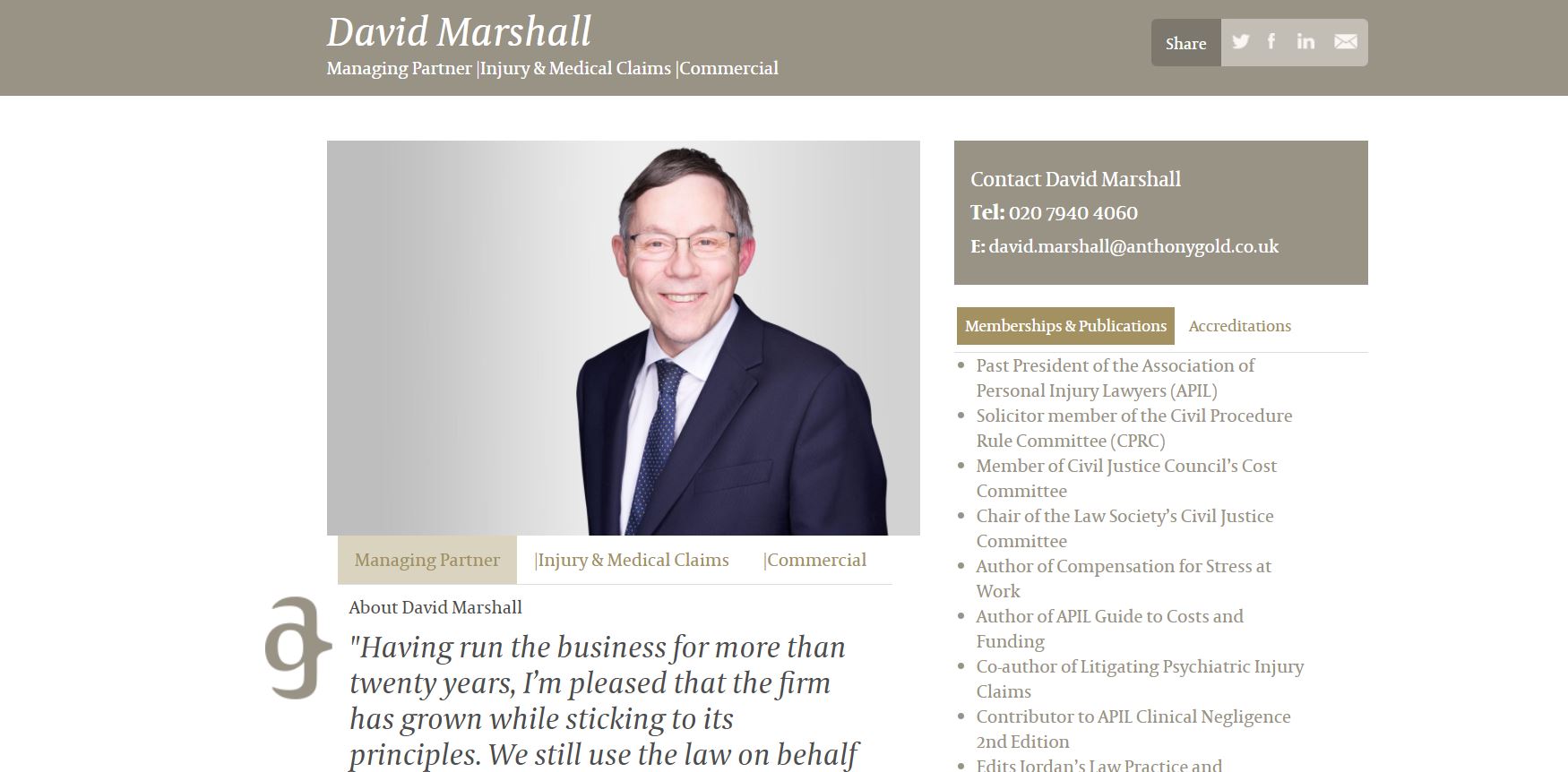 David Marshall is a highly experienced solicitor at taking care of high-value and severe psychiatric injuries. He has also worked for several clients in employment law cases involving stress at the workplace and commercial cases. Marshall has many professional memberships, including those of Member of the Civil Procedure Rules Committee, Member and past chair of the Law Society's Civil Justice Committee, Past President of the Association of Personal Injury Lawyers (APIL), Solicitor member of the Civil Procedure Rule Committee (CPRC), and Member of Civil Justice Council's Cost Committee.
Recently, David Marshall represented claimant Jem Stansfield's claim against the BBC and successfully settled this high-profile dispute.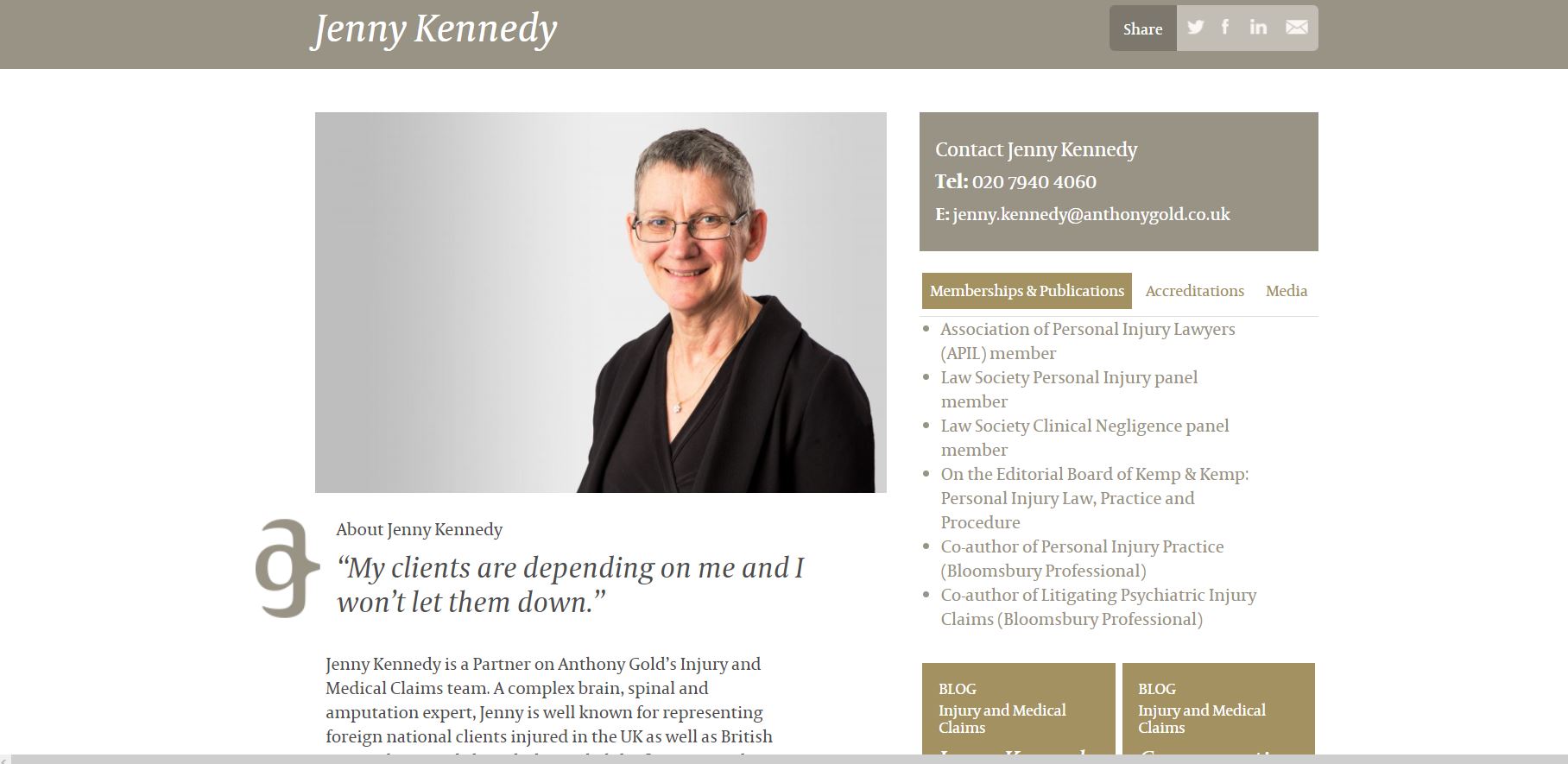 Jenney Kennedy has a specialization in handling complex brain, spinal, and amputation cases. She has worked with many foreign national clients injured in the UK, and British nationals wounded abroad. She has a keen interest in cases involving psychiatric and orthopedic injuries. She is a qualified psychiatric nurse. She is a member of the Association of Personal Injury Lawyers (APIL). She is also a panel member in the Law Society Personal Injury panel and Law Society Clinical Negligence panel.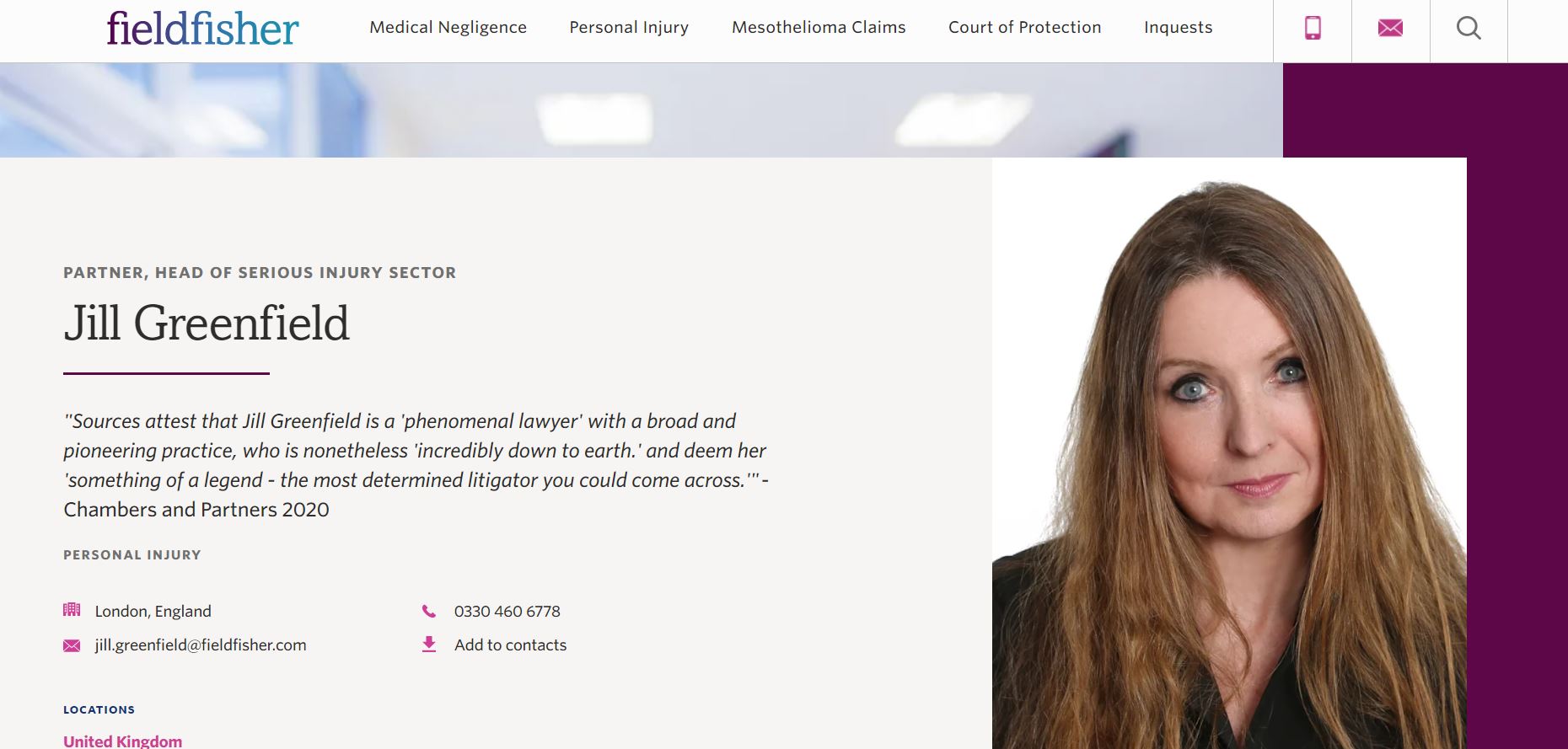 Jill Greenfield represents clients in the UK, as well as internationally. She has expertise in personal injury cases involving the brain, spinal cord, amputation, severe orthopedic injury, and fatal injury due to road accidents.
She has also worked with many victims of sexual assault, terrorist attacks & Ecoli 0157 outbreaks. Greenfield was shortlisted as Woman Lawyer of the Year at the Law Society Excellence Awards in 2018. In 2017, her team was honored with the title of the Solicitors Journal Personal Injury team of the Year.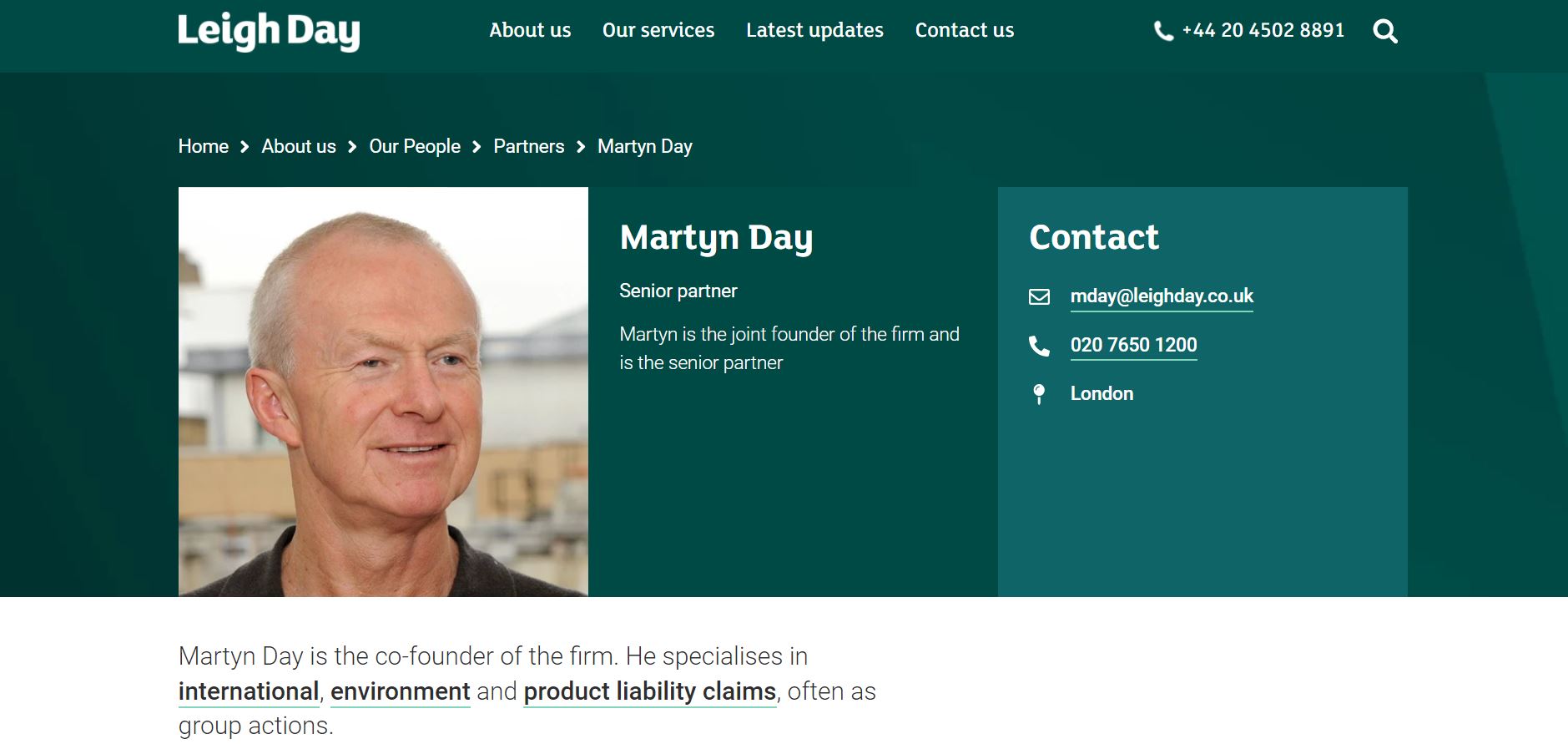 Martyn Day is popularly known for his work in product liability and environmental claims. He is the leader of a team of lawyers who represent the UK and overseas claimants against disputes with corporate or governmental bodies.
The day is a professional member of Greenpeace Environmental Trust. He is also a Leadership Council Member of Earthrights International, Former Chair of the Chem Trust, and Former Chair of Greenpeace UK.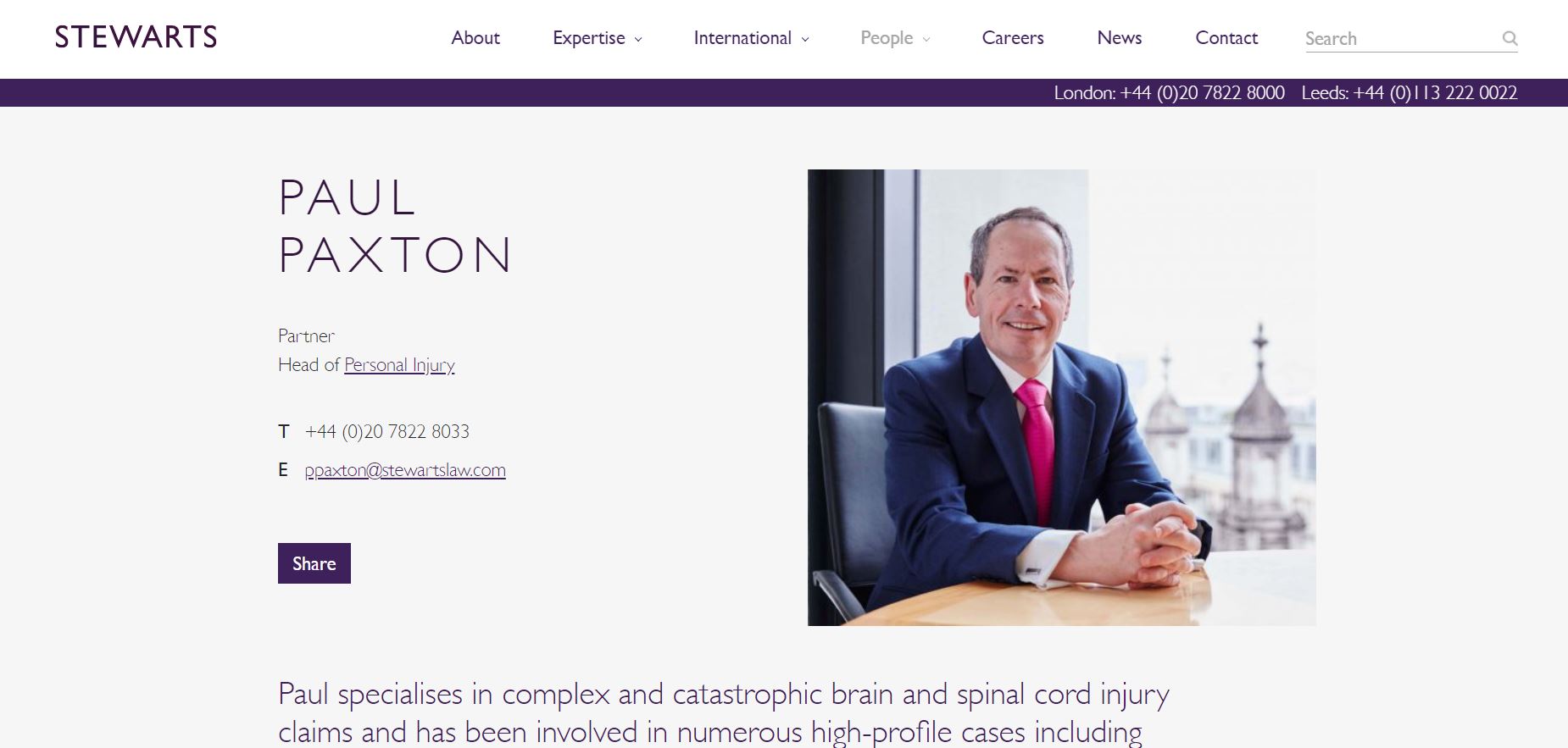 Paul Paxton is a specialist in catastrophic brain and spinal cord injury claims. He has worked in notable cases like Alton Towers, Agnes Collier, Callum Cross, and Isobel Sale. Paxton has various professional memberships like Middle Temple Law Society, Fellow of APIL, and CEDR accredited mediator.
He also wrote many articles for publications, including Banged Up (published by the Association of Personal Injury Lawyers (APIL) and PI Focus in July 2017), All the Fun of the Fair? (published by APIL and PI Focus in March 2017).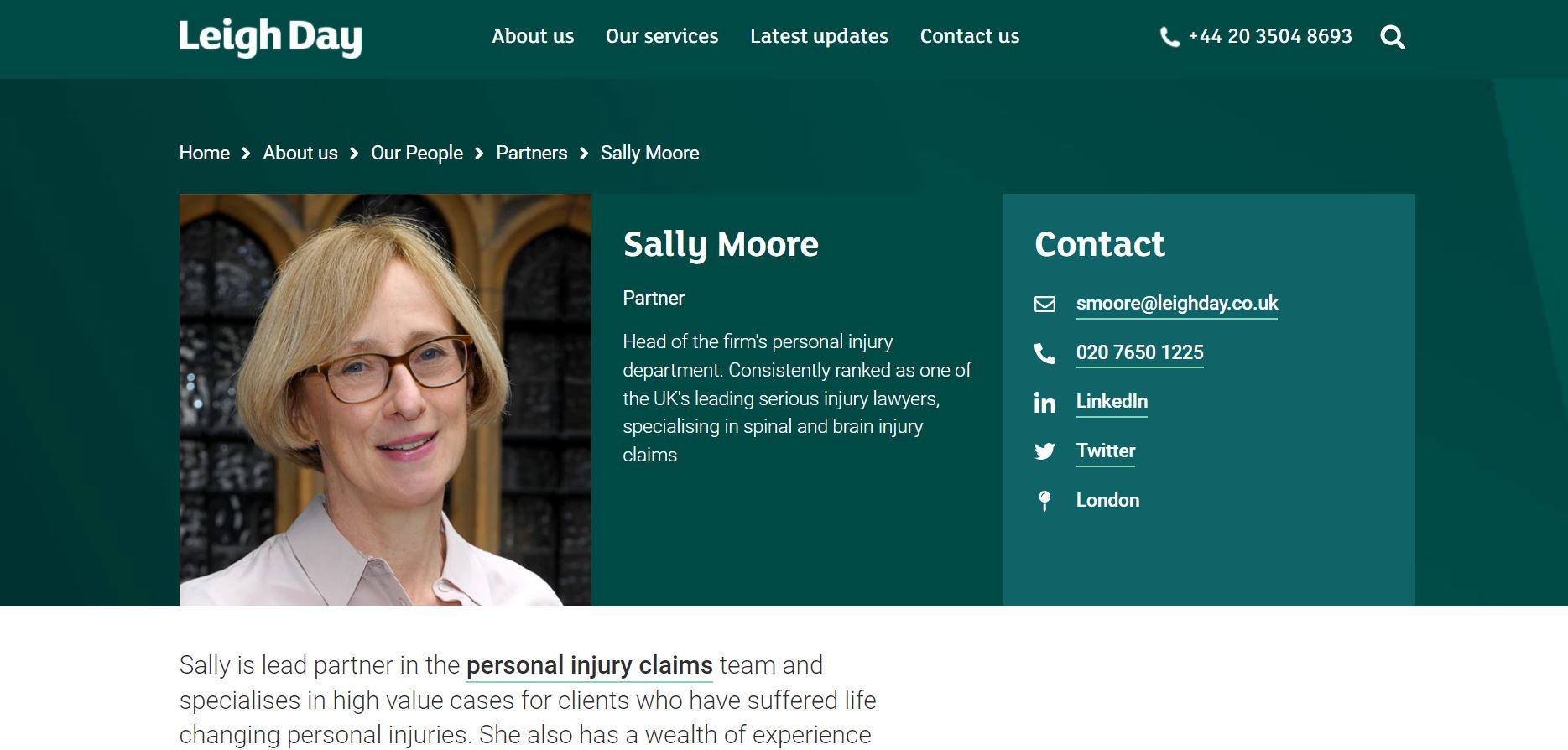 Sally Moore particularises in the brain, spinal, amputation, and lethal accident claims. Some of her most prominent cases include reward equivalents up to £9million for an injured pedestrian and £7.8million for a brain-injured cyclist.
She is a fellow of the Association of Personal Injury Lawyers (APIL) (and specialist in brain injury). She is also the Chair of Headway West London – the Brain Injury Association.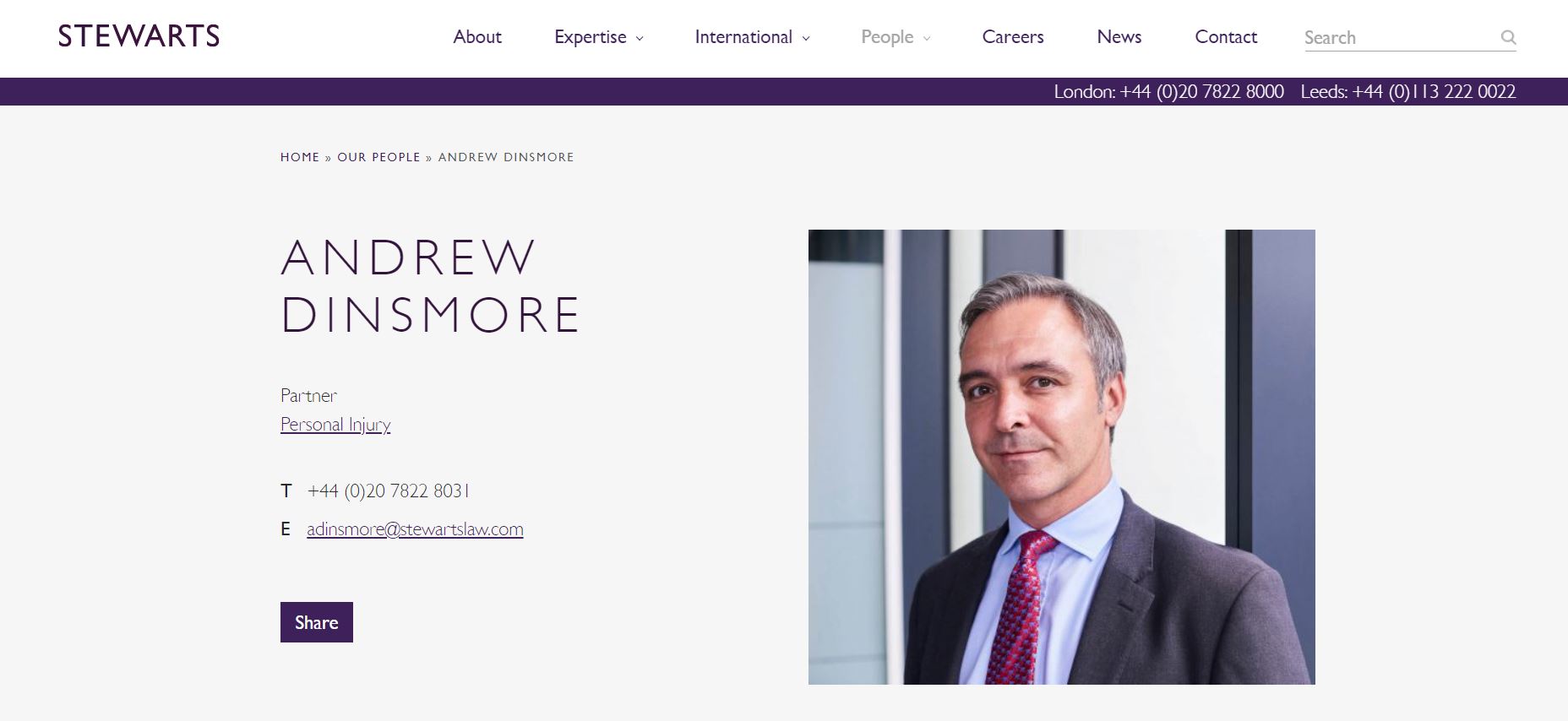 Andrew Dinsmore has expertise in cases involving spinal cord and brain injuries. Throughout his career, Dinsmore has worked in many high-value personal injury cases. Dinsmore has experience in various cases, including relation to liability scenarios, public liability, road traffic accidents, employer liability claims, and litigating sporting accidents. Andrew Dinsmore is a professional member of the Association of Personal Injury Lawyers.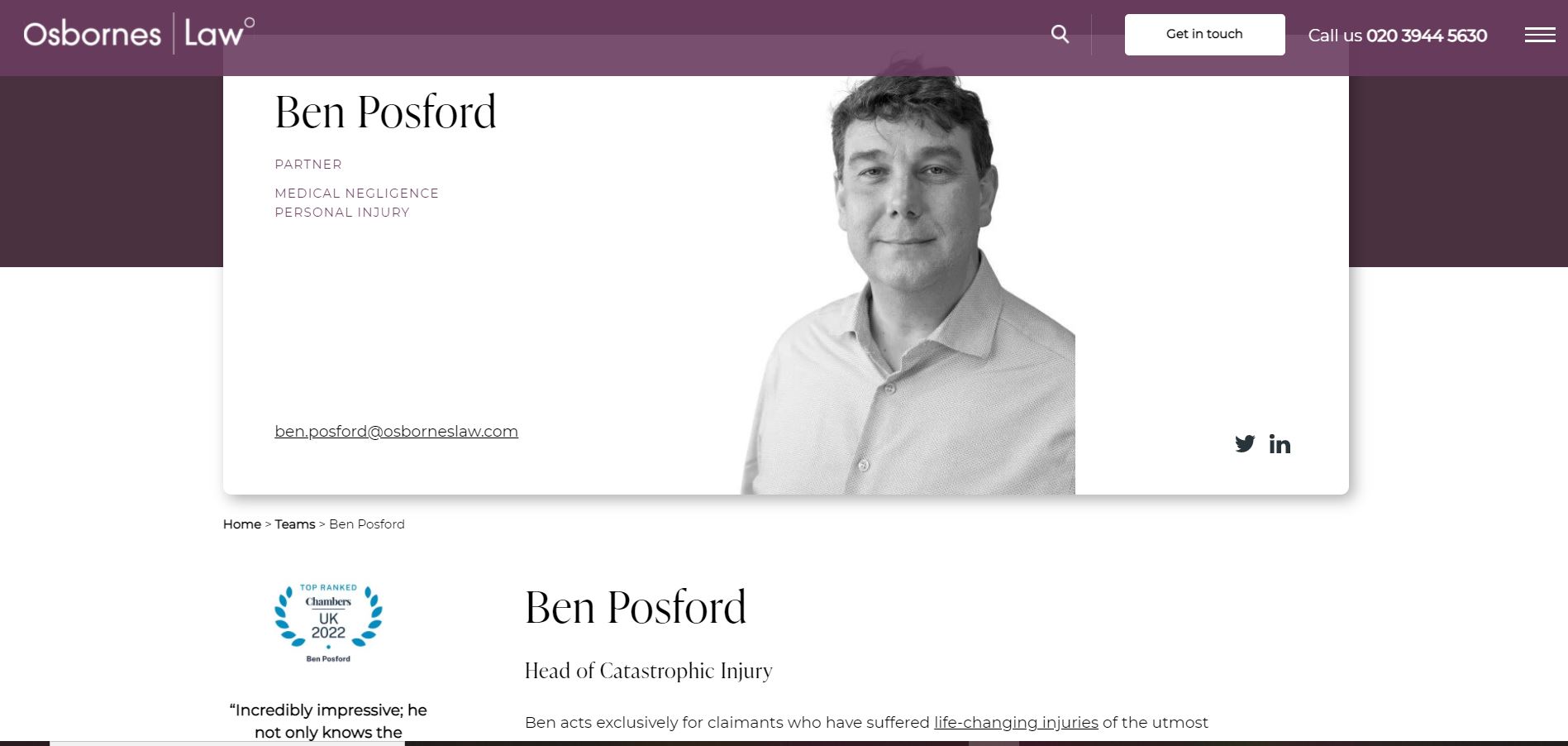 Ben Posford is an expert in cases involving catastrophic injuries. He has been recommended in leading client directories for many years at Osbornes Law. Posford has experience working in many personal injury cases involving workplace accidents, severe traffic collisions, and claims against multiple defendants.
His professional memberships include Association of Personal Injury Lawyers (Accredited Fellow), APIL accredited specialist in Brain Injuries & Fatalities, APIL elected national secretary of the Damages Special Interest Group and Law Society of England and Wales.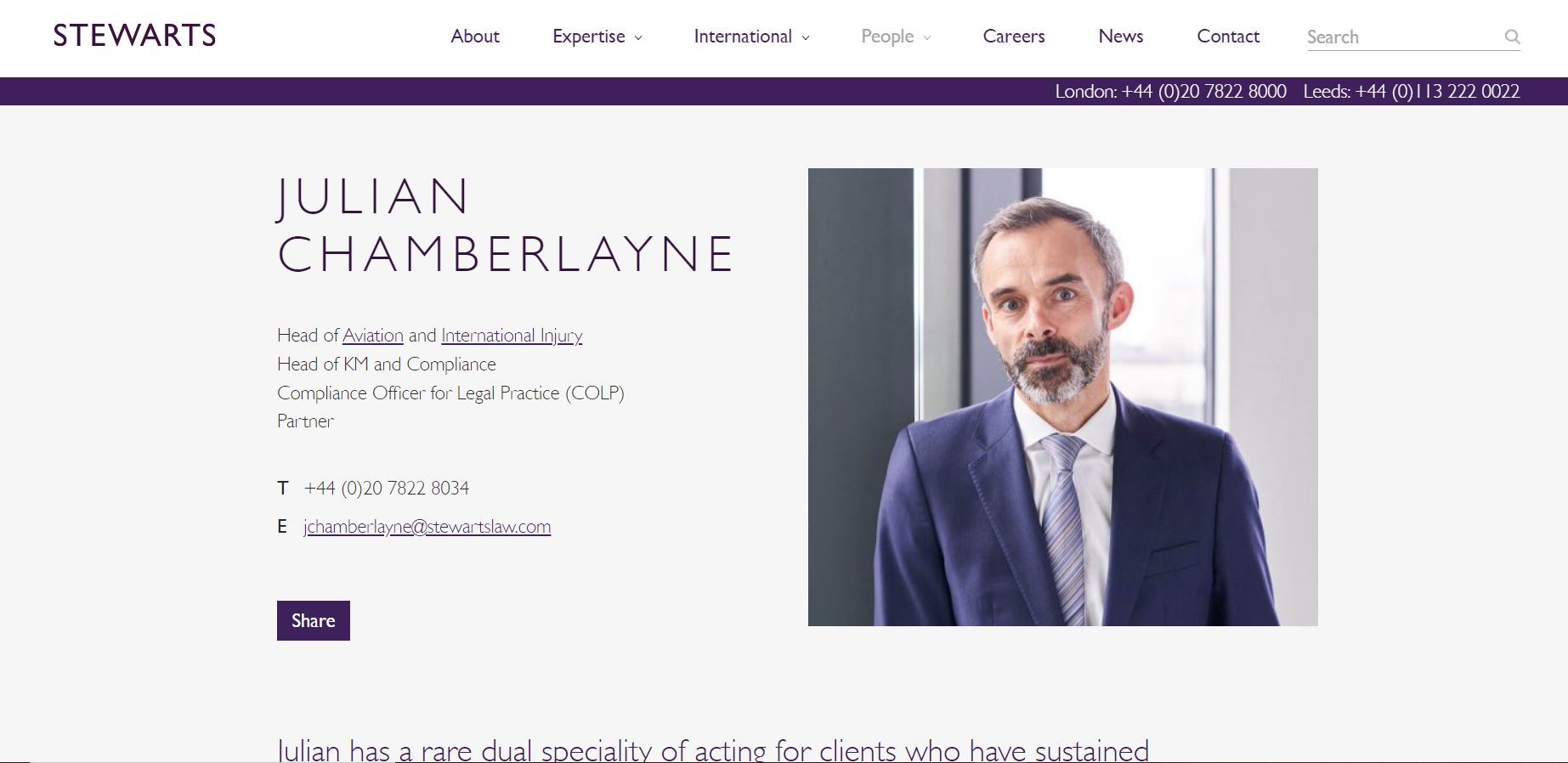 Julian Chamberlayne has successfully recovered over £140 million in compensation for claimants in personal injury cases involving the spinal cord and severe brain injury, amputations in the UK. He has also represented many families of lethal accident victims.
Chamberlayne's professional memberships include Chairman of the Forum of Complex Injuries Solicitors (FOCIS), APIL Fellow and accredited specialist in spinal injury and accidents abroad, Member of the Law Society PI Panel, ISCOS, and PEOPLE.
To Sum It Up
London is home to many highly successful lawyers of all kinds. This article lists the top 10 slip and fall lawyers in London with their background and career accomplishments.