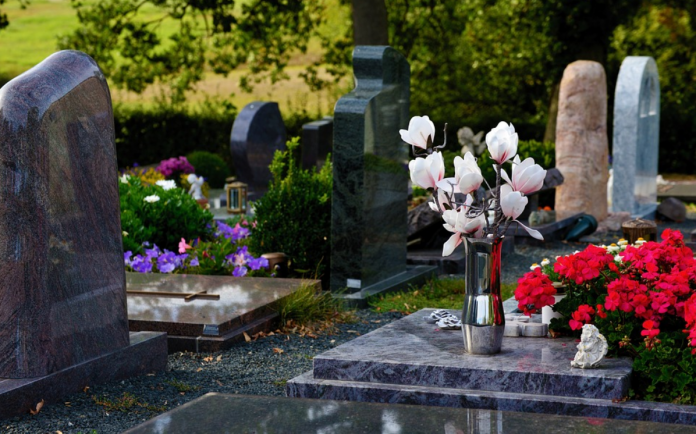 What is a funeral plan?
If you've ever thought seriously about the type of funeral you want then it may be time to get a prepaid funeral plan. A funeral plan protects your family from the expense of your final send-off but also allows you to take care of all the details ahead of time. It's a bit like having life insurance, but a funeral plan specifically covers your main funeral costs.
You basically pay a fixed price today for a package of funeral services and then when the time eventually comes, your funeral is carried out according to your wishes. A funeral plan can give you peace of mind for the rest of your life, knowing that your family won't be worrying about money or funeral arrangements after you're gone and whilst they're coping with grief too.
Prepaid funeral plan key features
Covers the main funeral director services, including transport and a coffin
Allows you to plan your funeral according to your wishes
Locks-in today's funeral prices (avoids spiraling costs)
Can be paid for in one single payment or you can spread the cost in monthly installments
Guarantees acceptance to UK residents.
So, who are the best providers in the UK? Here are the top 4 providers based on Fairer Finance and Defaqto expert product ratings:
1. Co-op Funeralcare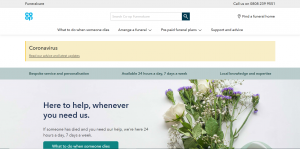 Co-op is certainly one of the top funeral plan providers in the UK and they have all the accreditation to prove it. Not only has Co-op been named the Best Funeral Plan Provider by Moneynet (four years running).
They're also the only provider to have all four of their plans awarded the maximum of 5 stars from Fairer Finance.
What makes them one of the best providers?
Funeral plans with Co-op come with a variety of benefits that not all other plan providers can offer. For example, two out of four of the Co-op funeral plans are fully guaranteed, meaning that all the essential costs are covered – including cremation or burial fees. No other plans on the market offer this level of protection. Co-op funeral plans start from £3,095 but it's also possible to spread the cost up to a maximum of 25 years.
2. Age Co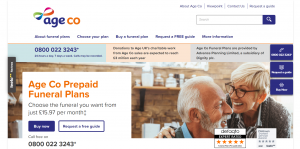 Age Co (owned by Age UK) traditional funeral plans are in fact provided by Dignity, a well-established funeral provider. Age Co traditional funeral plans have been awarded 4 stars out of 5 by Fairer Finance, except for the Rowan plan.
What are the benefits?
Age Co funeral plans are good if you're going to opt for a cremation funeral. This is because each of their plans guarantees to cover cremation fees (as well as the other essential costs). If opting for a burial, you may prefer to go with a fully guaranteed provider (such as a Co-op) to ensure your family won't have to pay any extra towards burial fees. Age Co funeral plans start from £3,070 but it's also possible to spread the cost if you need to.
3. Choice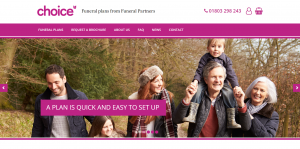 The choice is the next best funeral plan provider, with their plans being awarded 3 stars from Defaqto and 4 stars from Fairer Finance. The choice is part of Funeral Partners Ltd, the third-largest funeral provider in the UK.
What do they offer?
A choice likes to do things a little differently which is why they stand out from other providers. One example is that they offer additional discounts and benefits for their funeral plan customers e.g. £100 off a headstone or memorial. Choice funeral plans are also quite flexible and you can add on additional services that you think your family might appreciate when the time comes, such as embalming. They also offer the option to build your own funeral plan from scratch, so that's it's tailored to your specific needs.
The downside of Choice funeral plans is that they don't cover key third-party fees, such as cremation or burial fees. Choice allows you to contribute to these costs when buying your plan but can't guarantee that the total amount will be covered when your funeral is held. Your loved ones would have to pay the difference if there's an increase in prices. Choice funeral plans start from £2,695 or you can spread the cost up to a maximum of 5 years.
4. Dignity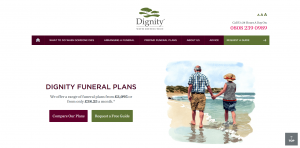 Dignity is one of the longest-running and biggest funeral providers in the UK. They were the first to offer a nationally available funeral plan, more than 30 years ago. Fairer Finance has awarded Dignity funeral plans with 2 – 4 stars depending on the plan.
Like with Age Co, each Dignity funeral plan guarantees to cover the necessary cremation fees, so that your family doesn't have to pay these when the time comes. This also makes Dignity funeral plans a good deal for people who want a cremation funeral. Alternatively, they offer a generous contribution of £1,220 towards burial fees (higher than some other providers).
Dignity funeral plans start from £3,095 and you can also choose to spread the cost up to 10 years. 
Next steps
There you go – the top 4 funeral plan providers in the UK. Co-op, Age Co, Choice, and Dignity all offer a nationwide service, which means anyone can take out one of their plans. Of course, arranging and paying for your own send-off ahead of time can seem a little doom and gloom. A prepaid funeral plan will avoid unwanted business rates. However, it can actually be a very easy and satisfying task. Especially if you choose to use a fee-free FCA-regulated broker, such as Reassured, to compare plan features prices on your behalf. A broker can provide you with all the information you need to find the best funeral plan for you and your family.
Finally, the best funeral plan can be chosen by yourself while living. This will reduce the spending of your family and your funeral will be conducted by your wish. Please comment below if the blog is useful and follow up with E-Business Blog.