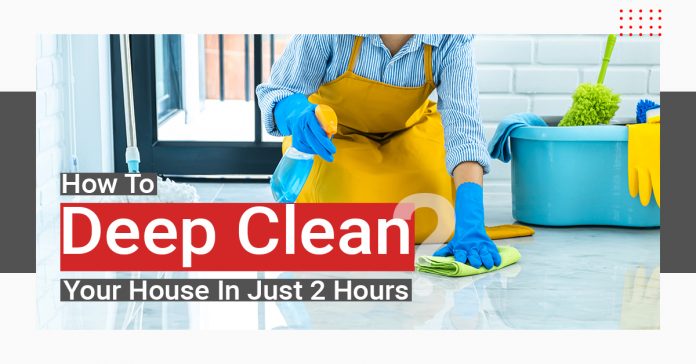 Are you expecting guests, an event is approaching fast, or simply want to clean your house because it is way too dirty to call it home. It's time for deep cleaning. Whether you are assisted by your partner or not, we'll help you achieve the impossible in just a few hours.
That's right. This post for effective and quick cleaning will serve as an appetizer before the main course. Let's cut to the chase and start telling you how you can clean your house in a couple of hours.
Make a plan to deep clean your house perfectly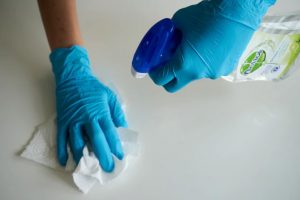 Making a plan will ease your operations, and you can accomplish the task faster. 
Think of the areas that need deep cleaning. Bathrooms and kitchen should be cleaned at every cost. They are a vital part of every home and a haven for germs and viruses. The living room is also a must. Check to see whether all the bedrooms require cleaning or not? Once you've made a plan start from the largest or the dirtiest room first.
Why? At the start of the mission, deep cleaning, you are high on energy and motivated. So, once the largest or the dirtiest room is done, your major obstacle is out of your way. The rest of the rooms should be cleaned in an order. This way, you are sure that you're cleaning every spot that needs attention.
Start from high-traffic areas
Owing to the COVID-19 pandemic and to keep your family safe from contagious disease, disinfect the doorknobs and full doors, window panes & handles, sinks & washbasins, baby carts, or anything that you and your family touch frequently. Mix a small amount of disinfectant like Dettol in water and soak a soft cloth to wipe on the surfaces. A combo of vinegar and warm water will also do the job.
One room at a time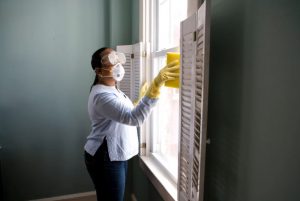 It's common sense, and we know you'll have this thing in mind even if we don't tell you. It will save you time. And once you are done with a room, you can move on to the next one feeling relaxed, thinking 'one down.'
Clear the clutter to start with
Before you start with mopping, cleaning, or vacuuming, it is better to clear the clutter, especially if you have kids. Pick anything like clothes, bags, books, shoes, toys, and anything lying on the floor, beds, or sofas. Place them where they belong. This will free up space and ease your cleaning process.
Follow the top to down cleaning formula
Everything in a room is prone to dust accumulation. Why top to down? Start from ceilings, fans, AC, curtains, walls and windows. This way, the dust and grime from these places fall on the floor, and you can sweep or vacuum it later.
If you don't follow it and start with the floor, you will surely have to clean the floor twice when the dirt and filth falling from the surfaces above will accumulate on the floor. Be smart!
What order to follow while deep cleaning?
Now, you must be thinking about what order to follow while cleaning your house?
Start from living rooms and bedrooms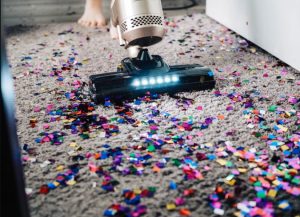 You spend most of your time in these rooms. Start by wiping the ceilings, fans, light connections, cleaning the walls, and finishing off by vacuuming the carpets. Cover the beds, sofas, and couches, etc., with cloth sheets so that no dust gets amassed on their surfaces. Lift the sheets and strip them outside. In the case of concrete or hardwood floors, mop them thoroughly using a disinfectant solution.
Now focus on the kitchen
Deep clean your countertops after decluttering them. Using a soft cloth, wipe off all your appliances like fridge, toaster, coffee maker, sandwich maker, blender, etc. Empty your dishwasher, clean the oven, scrub down the stove and remove anything stuck on it using a scraper.
Thoroughly clean all your cabinets from inside and above, reach behind the fridge area before you mop and vacuum the floor.
Finish-off with bathrooms
Feeling tired? Yeah, we know. But there isn't anything left after the bathrooms. You can take a breather before cleaning the bathrooms. Start with shower walls, clean them, fill up undiluted vinegar in a spray bottle, spray it on the walls & doors, and wipe the surface.
Dip your showerheads in white vinegar contained in a plastic bag. Use a quality bathroom cleaner and a piece of foam on the sink and counters to make them shine. For cleaning the toilets, you can either buy a disinfectant cleaner from the market or use 2 cups of white vinegar to scrub it.
Sweep the floor and walls thoroughly. You can soak your mop with some disinfectant to kill the germs etc.
Call Expert home cleaners
If you are busy, don't feel like deep cleaning your house, don't have the tools, or simply don't want to do it, Expert will be there for help. Just open the Expert App, book the home cleaning service, enter details like your address, time, and date of your choice and confirm the booking.
Their friendly and professional cleaners will reach your location at the stipulated time. Expert cleaners are experienced and leave no stone unturned in providing you absolute quality and unbeatable home cleaning services. With Expert as your home cleaner, you are in safe hands as they only employ experienced and background-checked people who fully respect your privacy.
Contact the best cleaning companies and get your home cleaned at the lowest rates in the UK.